Book Review: The English Wife by Lauren Willig
Hi Readers!
Thanks to Goodreads Giveaways (and St. Martin's Press) I got a chance to read The English Wife by Lauren Willig, which comes out today (January 9th), and this one did not disappoint!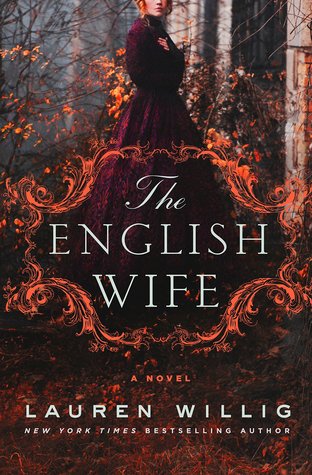 When Janie's brother Bayard is found with a knife in his chest, and his wife Annabelle presumed drowned in the Hudson, she is sure that her brother isn't responsible as the papers suggest. With the help of a reporter, Janie begins to dig into the past of the brother she wasn't close with and his mysterious English wife. The more she learns about their pasts, the more Janie realizes she might not have known them at all.
I love a good historical mystery, and this book did not disappoint. The story sucked me in from the start and I couldn't put it down (ask Jeff). The story is set in NYC in the 1890's and begins with the murder. From there the story alternates between the present, with Janie and her family trying to come to terms with what has happened, and the past, showing Bayard and Annabelle's lives up until the murder.
Janie was a great character. While still very believable for the time period, she grew throughout the story and wasn't afraid to stand up for what she believed by the end of the story. Annabelle and Bayard were both dynamic characters, with a lot of history both between them and before they met that slowly came out in the story.  Anne (Janie's cousin) was a feisty, scandalous woman, who added snark and wit to the story, and I really grew to like her. Mrs. Van Duyvil (Janie and Bayard's mother) was a strict, proper high society woman, and I hated her through out the entire story (she was written so well, Willig did a great job creating her).
There were several twists and turns throughout the story, some that I did see coming and several that I didn't (including who the real murderer was). The story wrapped up nicely, with almost every question answered, and I thoroughly enjoyed how it ended. The writing was witty and the dialogue moved, with a nice amount of smart back-and-forth between characters, including plenty of literary references!
Rating 5/ 5 – A great historical mystery, with plenty of juicy family drama, twists and turns, and witty writing. I highly suggest picking up this book now that its out! 
---
---