Book Review: The Immortalists by Chloe Benjamin
Hey Readers!
The Immortalists by Chloe Benjamin comes out January 9, 2018, and I was lucky enough to snag an ARC last month. Check out what I thought about this book that is already starting to get a lot of attention this year!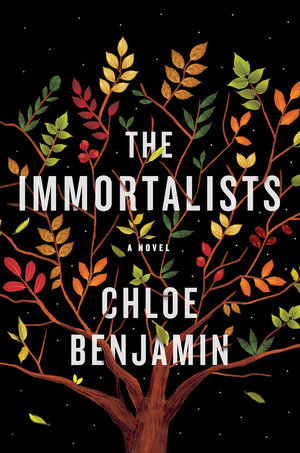 If you could find out the day you would die, would you want to know? The four Gold children take the risk one hot summer day when they are young and bored and what they learn from the fortune teller shapes they're lives forever.
I love how this book was set up. Each section features a different Gold sibling and is told from their point of view. Each successive section picks up in time where the one before it left off, but with the next Gold sibling (there is a pattern to the order that I loved, but don't want to spoil). The story flowed so well as time moved on that I hardly noticed that years had passed since the book started.
I wasn't as sucked into this book from the start.  It took me getting through the first quarter of the book before I got into the story line. I never felt the need stay up reading late hoping to find out what happened to the Gold siblings. I also thought this book would have more magical realism from the blurb and what I've heard about it, but that's not the case at all. This story is definitely more literary fiction/family drama than anything else.
Some lines in the story were weirdly graphic/vulgar/crass for seemingly no reason and other parts almost made me cry. Which is all the more interesting because I never actually really liked any of the siblings when I was reading about them. There were moments when I understood why one of the siblings did something, but I didn't find myself rooting for them or agreeing with their choices.
The overarching question of "did the siblings act they way they did because they believe what the fortune teller told them about when they would die" (or would everything have been the same if they had never known when they would die) was done really well. The story kept circling back around to it in subtle and not so subtle ways.
Rating: 3/ 5 – While there were some parts of the story I really enjoyed and I liked the flow of the story something about this one fell a little flat for me.
Let me know if you pick this one up on the 9th and what you thought about it! 
Thank you to the following for permitting me access to an advance reader's copy (ARC) of The Immortalists. This generosity did not impact my honesty when rating/reviewing.
Source: NetGalley
Author: Chloe Benjamin
Publisher: Penguin Group Putnam
Pub Date: 09 January 2018
---
---