What I read for Modern Mrs. Darcy's 2017 Reading Challenge – Reading for Growth
Hi Friends!
Happy Christmas Eve (if you're celebrating!). I hope everyone is getting a chance to relax a little today and get some reading in.
I've got to getting some baking done and make a batch of sangria but hopefully when that's done I'll be able to get in some more reading!
As promised, here is the list of what I read for the MMD reading for growth challenge!
A Newbery Award winner or Honor book:
The Girl who Drank the Moon – Barnhill
When the forest witch accidentally feeds the baby she's taking to a welcoming new family (moonlight instead of starlight), she has to raise the baby as her own.
3/ 5 – A fun, quick read that is full of magic.
A book in translation: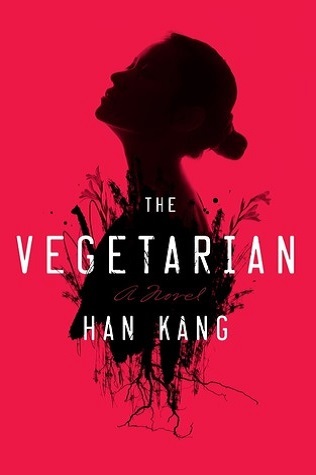 After a nightmare, Yeong-hye becomes a vegetarian throwing her whole family into chaos.
3/ 5 – This book was strange and includes some scenes that are pretty graphic.  The ending was thought provoking, but I'm still not sure if I actually liked the book or not.
A book that's more than 600 pages:
So the plan was to read Sleeping Beauties – Stephen King and Owen King but I ran out of time to finish it before 2018. Looking back on the books I read this year, it turns out I read The Court of the Air which is 582, so not quite 600 but still not bad for me.
The Court of the Air – Stephen Hunt
Murder, ancient power, thieves, outlaws, and secrets follow Molly and Oliver as they race to save the world from destruction.
3/ 5 – On paper this book had everything I could want in a story, but something fell flat for me when I was reading it. I got bored several times and even had a hard time getting through the book.
A book of poetry, a play, or an essay collection: 
The Geek Feminist Revolution – Hurley
A collection of essays on feminism and geek culture.
4/ 5 – I really enjoyed this. A longer review of what I thought can be found here! 
A book of any genre that addresses current events:
Young Jane Young – Gabrielle Zevin
When Aviva Grossman has an affair with her married congressmen boss, her whole world comes crashing down while he hardly gets a scratch.
3/ 5 – I enjoyed the realistic look at this situation, and liked that each section of the book was from a different woman's perspective who was affected by the affair.  Still, there was something that stopped me from being over the moon about it even though I enjoyed it.
An immigrant story: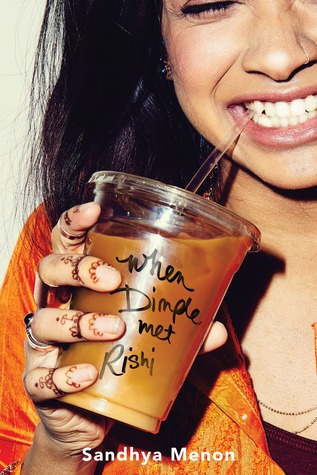 When Dimple Met Rishi – Shandhya Menon
Dimple heads to a web developer's summer program before college to get a break from her mother's search for the "Ideal Indian Husband" for her. When it turns out Rishi, the boy her parents hope she'll marry ends up at the program as well, both Dimple and Rishi need to figure out what they really want in life.
3/ 5 – A super cute read! I love that Dimple was a girl into science and technology and Rishi was adorable.
A book published before you were born:
My Cousin Rachel – Daphne Du Maurier
When the man who raised Philip dies suddenly after quickly marrying during a trip to Florence, Philip prepares to hate the women who might have caused the death of his dear uncle. When Rachel arrives, however, Philip finds himself drawn to this beautiful woman who may have killed his uncle.
3/ 5 – The book was a little slow for me, but I did like the ending even though I'm still not quite sure what happened with everyone (sometimes I still wonder about it).
Three books by the same author:
I ended up reading two Jenny Colgan books before I realized that the books were by the same author. I read The Bookshop on the Corner, Little Beach Street Bakery, and The Cafe by the Sea.
I gave all three 3/ 5 – They were cute, but had essentially the same plot with slight variations. I think The Bookshop on the Corner might have been my favorite of the three.
A book by an #ownvoices or #diversebooks author:
All the Birds in the sky – Anders
When childhood friends go their separate ways in high school under mysterious circumstances, they didn't think that, as adults, they would be working to either save the world or let it fall into a new dark age.
3/ 5 – I'm still not sure what I read. This book was strange and I had a hard time following it, which is sad because in the summary there seemed to have many things I love to read about (magic, the end of the world, technology gone wrong).
A book with an unreliable narrator or ambiguous ending:
The Wife, the Maid, and the Mistress – Lawhon
A prominent Judge disappears one summer night in 1930 in NYC. The story follows the three women who spent the most time with him, his wife, his maid, and his mistress, as they try to come to terms with what happened.
4/ 5 – I enjoyed this historical mystery, the three women were characters with more depth than appeared at first glance. The ending wasn't a huge surprise, but I still enjoyed it and was surprised by a few of the little details. I also enjoyed that this story was molded after real places and people and that Lawhon included historical facts at the end of the book after the story.
A book nominated for an award in 2017:
Whispers Beyond the Veil – Estevao
A historical mystery set in a hotel that features all things psychic in Maine in the 1890s.
4/ 5 -The characters grew on me as the story progressed and I'm looking forward to reading the next in the series. A longer review of what I thought can be found here!
A Pulitzer Prize or National Book Award winner:
A nonfiction story that discusses how humans have altered life on Earth unlike anything else.
I'm still working on this one, but it's amazing. Kolbert's writing style is informative and interesting. I'm hooked and, although it's non-fiction, I don't want to put it down at night. I also think the message is one everyone needs to hear as we only have one planet and need to TAKE MUCH BETTER CARE OF IT!
I hope everyone got to read some great things in 2017!
What was your favorite book that you read in 2017?
---
---