Book Review: The Snow Child by Eowyn Ivey & Please make these cookies
Hi friends!
I hope everyone is having a fantastic start to their week. I'm so excited because Jeff and I are getting a chance to spend some time with my parents and it's been full of food and fun!
I recently finished The Snow Child by Eowyn Ivey for one of the Modern Mrs. Darcy Book club picks for December and it was wonderful. Beautiful writing, a fantastic winter world, a touch of whimsical, and characters you just wanted to root for.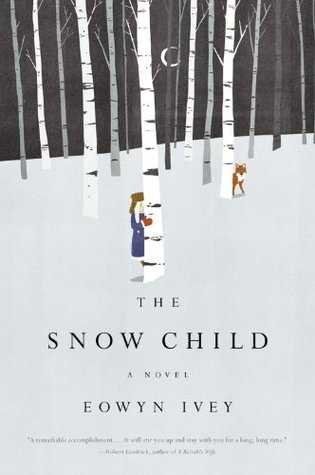 After never having been able to have a child, Jack and Mabel move to the Alaskan wilderness in 1920 hoping to start over together. What they find is back-breaking work on a farm they have trouble keeping up with and a loneliness so complete Mabel isn't sure she can over come it. During the first snow fall of the season, the couple builds a child out of snow, but the next morning the snow child is gone and they find a young blond girl running through their woods. Jack and Mabel struggle to understand the little girl, who travels with a red fox, never stays the night with the couple, and seems to have come from the pages of a storybook.
This book was beautifully written with wonderful characters. I just wanted things to work out for Jack and Mabel; like any couple they had issues, but, overall, I just wanted them to be happy after all they had been through. The backstory and introduction of Faina was done slowly, with parts of her past coming to light as the story progressed. Jack and Mabel had wonderful neighbors in George, Esther, and their family. Esther was a great character because she was the complete opposite of Mabel: loud, direct, and talkative. The neighbors added humor to the story that the plot would have otherwise lacked. 
The author's writing style lacked quotations when characters talked. I struggled with this in the beginning of the story, unsure if characters were thinking something or talking out loud. As the story progressed, I got used to the writing style, but I'm not sure I enjoyed it. I think Ivey wrote this way to help the story flow and not break up the writing, which was wonderful but a little hard to follow.
The weather becomes a character of its own and is an important aspect of the story. The author did a great job creating a person out of the wilderness of Alaska and the weather as the seasons changed. I loved the whimsical aspects to this story: it toed the line of magical and I enjoyed not really knowing if what was happening was due to magic or the characters' overactive imaginations. The ending is bittersweet and leaves you wanting more in the best way.
Rating 4/ 5 – The Snow Child is a whimsical story set in the pristine Alaskan frontier. The setting draws you in and the characters keep you reading. This is a great book to pick up during the winter with a cup of tea and a warm blanket!
Throughout the story Mabel is complimented for her pies, which obviously left me wanting pie. While I didn't have time to bake another pie after Thanksgiving, I did have leftover cranberries so I whipped up a batch of these cranberry orange cookies to eat while I read. Super quick and easy to make, these cookies are a great use for your leftover cranberries (if you have any!). Just add a cup of tea and The Snow Child is the perfect book to curl up with on a cold winter day.
Let me know if you try the cookies! 
Have you read The Snow Child? What did you think of the ending?
Cranberry orange cookies
Ingredients
1

cup

2 sticks of butter - room temperature

1

cup

of brown sugar

¼

cup

granulated sugar

1

large egg

Zest of 1 large orange*

1

tsp

vanilla extract

½

tsp

almond extract

2 ½

cups

flour

1

tsp

baking soda

¼

tsp

salt

2

cups

fresh cranberries cut into quarters

½

cup

chopped almonds**
Instructions
Preheat oven to 350 degrees

In a large bowl mix softened butter and sugars together until light and fluffy

Add egg, zest, vanilla extract, and almond extract and mix

In a medium bowl sift the flour, baking soda, and salt together

Slowly add the dry ingredients into the wet. Mix until combined.

Fold in the cranberries and chopped almonds

Place about 2 tbsp of dough per cookie onto a baking sheet, be sure to leave a little room between cookies as they spread out a little in the oven

Bake for 15-17 minutes (cookies should still be a little soft in the center)
Recipe Notes
* you can use less zest if you don't want the orange flavor to be as prominent
** I used a nut grinder to finely chop the almonds but you could also use slivers or any size you would like
---
---