Book Review: Bonfire By Krysten Ritter
Hey readers!
Below I have my review of Krysten Ritter's first novel Bonfire. While I think the plot wasn't the most original, I do think it's worth a read if you're a fan of Krysten Ritter from her shows and want to check out her book or just enjoy thrillers in general.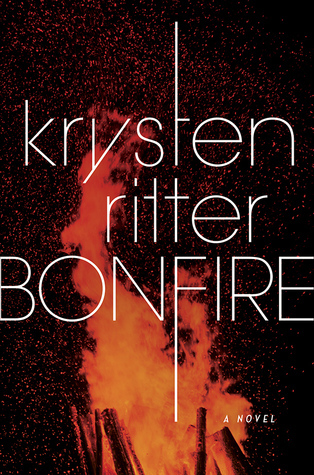 When an environmental lawyer from Chicago discovers that Optimal, the plastic company that is based in her home town, might be dumping waste into the local water supply Abby knows it's time for her first trip home since she left ten years ago. As Abby starts to dig into Optimal's history she learns that the ghosts of her past have a way of coming back the closer she gets to the truth about Optimal.
I enjoyed Krysten Ritter's first novel Bonfire but felt there were a few things that she could have done better. Bonfire had dynamic characters that never did exactly what you thought they would do and a small Midwest town that felt real, including leaning on the gossip that happens in small towns to move the story along. The overall mystery was a little standard – I feel like I've read plots very similar (girl has messed up high school experience, becomes detective/lawyer, has to come home, and ends up getting wrapped up in a case about someone from high school) and it had a slight Erin Brockovich feel in the beginning, though there were some additional issues thrown in that over take the environmental issues by the end of the story.
In addition, I never understand why writers feel the need to lean so heavily on female protagonists having drinking problems when portraying them as struggling/ having issues with their past. Abby started to drink heavily while she was in Barrens, which lead to those around her not believing her and I felt that it was a bit of an easy way out for Ritter. 
I thought the second characters were well crafted and well used by Ritter to advance the story. Most added something important or essential to the story but I wasn't overwhelmed with the number of characters. Abby's interactions with her father were well done and felt realistic. They  gave us a chance to explore Abby's home life without seeming forced. I also enjoyed the short flashback episodes Abby had throughout the story, which slowly filled the reader in on what happened when Abby was younger and add more mystery to the plot.  
The climax of the story was a little predictable but I still enjoyed it. There were so many twists at the end I'm not even exactly sure how and why everyone did what they did. I needed a little more clarity on everything, I think if Ritter had fleshed out the details a little more towards the end, the story would have wrapped up nicer. I did love the ending (the very last few pages), it was bittersweet but exactly what the characters needed most!
Rating: 3.5 (I rounded up to 4 on Goodreads)/ 5 – The plot wasn't the most original but, overall, I enjoyed the story, which turned out to be a quick read.
---
---