Happy Halloween! Recent reads Vol. 4 – The good and the bad
I just want to say as a current resident of NYC how proud and thankful I am for men and women who work so hard to keep us safe everyday. It's days like today I'm reminded how amazing the NYPD, FDNY, EMS, and all other first responders in NYC really are. Thankfully both Jeff and I are safe and we're keeping all those affected by this senseless attack in NYC in our thoughts.
Happy Halloween!
I hope everyone has a safe and fun night celebrating. Jeff and I went to a Halloween party earlier this month so we're enjoying a quiet night in watching Food Network's Halloween Wars and Halloween Baking Championship with our 3 dollar burrito bowls from Chipotle!
Below are reviews of two of my recent reads. Both pretty fitting for Halloween (one slightly magical and one about Lizzie Borden), one was great and one was not so good, but hey they can't all be winners!
Beasts of Extraordinary Circumstance By Ruth Emmie Lang
After the death of Weylyn's parents, he moves into the woods to live with a pack of wolves. As Weylyn grows up, moving from state to state, and home to home, he slowly starts to learn there might be something different about him as strange things keep occurring around him. When he and Merlin, his horned pig, stop a tornado in its tracks, he learns just how different he actually is. Weylyn realizes he must learn control over his abilities, or those he loves may very well be in danger.
I loved this story. The plot was original, and the cast of characters was fantastic. There were wonderful friends (both human and animal) that I enjoyed seeing interacting with Weylyn and there were characters I wanted to jump into the story and protect Weylyn from. The book follows Weylyn throughout his unique life and I enjoyed getting to see not only Weylyn grow and change but to see those around him grow up. The ending was a little sappy but I couldn't help but love it after rooting for these characters their whole lives.
Lang did a nice job with the magical realism aspect of the story. She created a world where everything was believable but still magical. I expected to look out my window while I was reading and see the trees growing (or maybe I was just wishing they would start to grow). I also really enjoyed how Land broke the book up into different sections based on where and with who Weylyn was living, telling the story from those around him rather than from Weylyn's point of view. It keep the story fresh, while introducing and reintroducing characters in an organic way.
Rating 4 /5 – A wonderfully written, unique, story about the life of a very different man. I loved Weylyn and his horned pig, Merlin, and the rest of the characters throughout the story. I enjoyed reading about his life from the point of view of those close to him and the magical realism that was found throughout the entire story.
See What I Have Done By Sarah Schmidt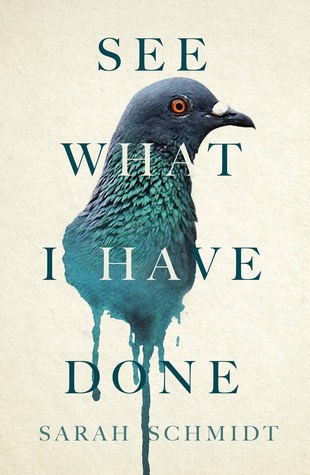 Starting a few days before the murder of her parents and the surrounding aftermath, See What I Have Done tells the story of the Lizzie Borden murders from alternating points of view including Lizzie; Emma, her sister; Benjamin, a stranger; Bridget, the Bordens' housemaid.
When I first heard about this book I was so excited, I love books that are gory and really bring the creep factor. I also always enjoy reading real life murders that authors turn into fictional stories. Sadly, this book really let me down. I didn't think anything was creepy and the gory aspects of the murders seemed to be skated over so that nothing was too gruesome. Lizzie seemed to be mentally unstable in her parts of the story (which makes sense), not really remembering anything. Her lack of details/memory about the murders made me just want to skip her sections as I feel like they didn't add much. Benjamin's sections seemed unnecessary throughout almost all of the story. Although he was important near the end, by then I really didn't care to read about him anymore. I felt sorry for Emma but still couldn't muster up caring about her. I did enjoy the sections from Bridget's point of view and kept reading so I could find out what happened with her at the end.
I did enjoy that the writer focused not only on the day of the murder but the few days leading up. It was interesting to see what was occurring in the household leading up to the crimes. The writing was a little too flowery for me based on the subject but was still beautiful. I think this book was a case of focusing on the language of the story rather than the story itself. I would be interested to read something else by this author but with the assumption that I was reading the story for the writing not the plot.
Rating 2 / 5 – I was promised gore and creepiness but got characters I was unable to connect with (good or bad) and nothing that was creepy or gory to me. It was a quick read so I did finish the book but I can't really say I recommend it.
Let me know if you've read either and what you thought!
Happy Halloween!
---
---