Book Review: Artemis by Andy Weir
Hey guys! Happy Thursday. I have a really great post for you today. My review of Andy Weir's new book Artemis (it comes out November 14). Enjoy!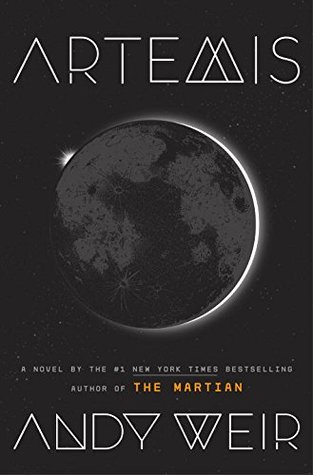 Artemis focuses on Jazz, a young woman living on the moon's only colony. While still set in space, Artemis is a grittier look at space than Weir's first book, The Martian. As opposed to a highly visible NASA mission this story is centered around the underbelly and inner workings of a moon colony. Jazz, who has lived on Artemis since she was six, is a tough, feisty, no-nonsense porter who smuggles contraband to those who can afford it. When one of her regular customers offers her a extremely high paying and dangerous job Jazz can't afford to turn it down.
The science in Artemis is just as great as Weir's first book. In Artemis the science focuses on the chemistry of sustaining a living population on the moon, along with all the great physics that comes with a setting with less gravity than Earth. Weir does a good job addressing almost all of the actual things that would have to happen or be thought of when creating a home on the moon along with explaining the science behind them.
Jazz speaks at you like the book is her journal but it's not set up as journal entries out right which I found a little confusing at first but enjoyed by the end. I also wasn't thrilled with Jazz when the story first started but by the end I had grown to respect her and her decisions. The cast of secondary characters is amazing, I enjoyed everyone in her rag tag crew immensely. I also loved how much Jazz utilized her friends when she needed them, while still being a strong leader and fast thinker for the team.
The book was a bit of a slow start for me but around halfway through I couldn't put it down. I feel like this book was set up to be the first in a series rather than a stand alone. The ending left me with several questions and didn't wrap up everything. If this is going to be a series, I can't wait to read the next one, if not I'm a little unhappy with how much was left in the air.
Try not to go into this book thinking about The Martian. I know that was hard for me, especially because I love The Martian so much, but, sadly, I think how much I loved his first book tainted this one a little for me. It's hard not to compare an author's first book to his second but I personally think Weir did a great job with a similar topic (space) while still creating a completely different environment and story once I took a step back from his other work.
Rating: 4 / 5 – Weir again amazes me with his science and storytelling. The cast of characters was interesting and I enjoyed the sense of redemption Jazz found throughout the story.
I have to be honest, getting an ARC of this book (a book I've had on TBR list since it was announced months ago) has to be the highlight of my little blogging experience so far.
I hope everyone has a great weekend!
Thank you to the following for permitting me access to an advance reader's copy (ARC) of Artemis. This generosity did not impact my honesty when rating/reviewing.
Source: NetGalley
Author: Andy Weir
Publisher: Crown Publishing
Pub Date: 14 Nov 2017
Genre: Mystery & Thrillers , Sci Fi & Fantasy
---
---