Spooktacular Reads For Fall!
Hey guys!
Fall is hands down my favorite season (it also helps that I got married in the fall). The cooler weather, the scarfs, the football, and more time to curl up with a cup of tea and a great book. I also love Halloween and everything that goes along with the spooky, fun, and crazy holiday.
I've always enjoyed reading books that go along with the season, especially when they are about monsters or things that go bump in the night. Below are 24 (yes that's a lot I know!) books broken down into several categories that all make great reads during the month of October (or whenever).
Monsters:
The Girl with all the Gifts by M.R. Carey – A unique take on the zombie theme from the point of view of a very special young girl (this has also been made into a movie that is available to stream with Amazon prime, although I haven't watched it yet).
The Historian by Elizabeth Kostova  – A daughter's quest to figure out what really happened to her mother and what her father has been keeping a secret. The quest revolves around the history of Vlad the Impaler and the legend of Dracula.
Frankenstein by Mary Shelley – A classic that will never go out of style, October is always a great month to re-read this classic or pick it up for the first time.
Warm Bodies by Isaac Marion (Warm Bodies #1) – Another twist on the zombie theme, this one a little more light hearted that focuses on a zombie names R as he tries to figure what what it means to be a zombie and by extension what it means to be human. This is the first in a trilogy. The second book, The Burning World, was even better than the first, and the final book, The living is slated to come out some time in late 2017. Warm Bodies has also been made into a movie starting Nicholas Hoult which I also love.
Fairy Tales re-imagined:
The Bear and the Nightingale by Katherine Arden (The Bear and the Nightingale #1) – A Cinderella-type story complete with a loving father and a evil stepmother set in the Russian wilderness. When her village stops praying to the old gods and misfortune befalls the village it is up to Vasilisa to fix it before it's too late. There is a sequel to this (The Girl in the Tower) set to come out December 5th 2017 and I can't wait for it.
The Girl Who Chased the Moon by Sarah Addison Allen – Not quite a fairy tale retelling but it felt wrong to leave Sarah Addison Allen and all her magical realism off an October reading guide. This might be my favorite Allen book. After the death of Emily's mother she moves back to her mother's hometown to live with her grandfather. A small town in Carolina where her grandfather is rumored to be a giant, the wallpaper in her bedroom keeps changing, and unexplained lights can be seen floating around the town.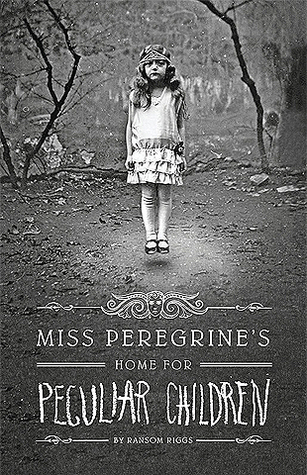 Miss Peregrine's Home for Peculiar Children by Ransom Riggs (Miss Peregrine's Peculiar Children #1) – From the back of the book – "A mysterious island. An abandoned orphanage. A strange collection of curious photographs" – Curious photographs which are spread through the book add a spooky element to this YA story. Also part of a trilogy (I haven't read the other two), and a movie starting Eva Green (who is amazing). Although the movie takes some liberties from the book that I don't particularly like, this is still an interesting movie if looked at independently of the book.
Uprooted by Naomi Novik – Haunted woods, an old wizard named the Dragon, and a young woman handed over to him once every 10 years in exchange for a village's protection. I know, I know it sounds a little weird, but Novik writes beautifully and the story is intriguing with twists and turns that set this apart from other fantasy books.
Spooky/Creepy:
Crimson Peak by Nancy Holder (a movie novelization) – A young woman swept away by a mystery stranger and his sister to their home built on a foundation of blood-red clay. The movie is actually really good. The book does explain a few things much better than the movie (as books do most of the time) and leaves the creepy images up to your imagination. I read this when I was home alone – major mistake for me.  
The possessions by Sara Flannery Murphy – A service that allows clients to have more time with their deceased loved ones. Workers (bodies) swallow a pill that summon the loved ones, losing themselves in the process. The plot focuses on a husband, who comes in looking to connect with his old wife who passed away amid mystery circumstances and the body who he works with. Possession is always creepy and this book does a great job of blurring the line between what is real and what isn't.
Delia's Shadow by Jaime Lee Moyer (Delia Martin #1) – Delia has always seen ghosts and when a particularly relentless one won't give up Delis travels back to her hometown of San Francisco in 1915. A serial killer who appears to be back from the grave and ghosts popping up everywhere give this historical mystery a little more spook factor.
Storm front by Jim Butcher (The Dresden Files #1) –  Harry Dresden, Chicago's only wizard for hire. A dark, yet funny series that focuses on Harry Dresden, a wizard who gets called in to help Chicago PD, and other clients when things get a little to paranormal. Butcher is a master storyteller and the world he's created in the series is nothing short of fantastic. October is a great time to start this series or pick up the next one in line if you've already started.
Thriller: Warning: The following books contain triggers for some readers i.e. graphic murders, rape, and strong language
The Surgeon by Tess Gerritsen (Rizzoli and Isles #1) –  A serial killer on the loose in Boston who is breaking into women's apartments and torturing them before killing them. We're introduced to female detective Jane Rizzoli (for those of you watched the TNT show Maura Isles shows up later in the series) as she works to solve this horrible crime. I personally love Rizzoli and enjoy the character development that occurs in these books. Beware that while the books are similar to the show (in names of characters and location) the books are very different plot wise.
The Bone Collector by Jeffery Deaver (Lincoln Rhyme #1) –  A killer is taunting Lincoln Rhyme, who was once at the top of his field in forensic science, before an accident left him physically disabled. Along with a feisty (and I mean feisty in the very best possible way for a female detective) Amelia Sachs, the two follow the clues left for them to stop the killer. Deaver is the king of forensic crime novels, with twists and turns you'll never see coming.  
The Girl with the Dragon Tattoo by Stieg Larsson (Millennium #1) – The book that introduced Lisbeth Salander to the world. A disturbing story about one man's quest to know the truth about his niece.  This book follows Mikael Blomkvist, the journalist that is hired to find out what really happened, and Lisbeth Salander, a hacker that Blomkvists recruits to help him.
Mistress of the Art of Death by Ariana Franklin (Mistress of the Art of Death #1) – Possibly my favorite mystery series. Children are being murdered in medieval England, to solve this crime King Henry calls on the King of Sicily to borrow his best medical expert in the art of death. When Adelia shows up she must solve the crime while hiding her identity of a doctor in order to avoid being labeled a witch.
Light hearted fun:
Family Skeleton by Leigh Perry (Family Skeleton Mystery #1) – There's a skeleton in the family who is alive, funny, and trying to find out how he died. Enough said go grab a copy of this quick read.
It Takes a Witch by Heather Blake (A Wishcraft Mystery #1) – To tourists the Enchanted Village in Salem Massachusetts is just a fun stop, but to the actual witches or crafters who live there it's home. The first book follows Darcy and Harper (two sisters) who recently found out that they are Wishcrafters, those with the ability to grant wishes, as they navigate their new home town while trying to prove their Aunt Ve didn't murder the woman who was found strangled with her scarf.
Graveyard shift by Angela Roquet (Lana Harvey, Reapers Inc. #1) – What happens when you die? One of the many reapers, employed by Reapers Inc in the afterworld come to collect your soul and make sure it moves on to the correct afterlife. Lana isn't the best reaper in the bunch but when she is given a promotion she learned more about Eternity than she bargained for.
A Potion to Die For by Heather Blake (Magic Potion Mystery #1) – I love Heather Blake and her magical series. This series (there's currently only 3 books) follows Carly Bell Hartwell, the owner of a magic potion shop. When she finds a dead man in her shop Carly needs to help solve the murder before the real killer gets away and she ends up behind bars.
Other:
Practical Magic by Alice Hoffman – Practical Magic follows the Owens sisters as they go from young girls living with their eccentric Aunts to very different women who want very different things in life, but are always brought back to each other.
Lady of Ashes by Christine Trent (Lady of Ashes #1) – A female undertaker  in 1861 London struggles to keep the undertaking business her husband owns (and has neglected) running. While Violet is busy running the store her husband is getting up to no good in a plot to influence the American civil war. As Violet starts to notice a series of death among the poor and gets drawn into her husband's schemes, Violet must figure out what's going on before the danger catches up to her.
A Madness So Discreet by Mindy McGinnis – A historical thriller that starts with Grace, a daughter in a prominent family who is locked away in a mental asylum in which she does not belong at all. A visiting criminal psychologist saves her from her dank, dark, cell once he sees the sharp mind Grace has. There is nothing more frightening to me than being locked away unjustly  in an asylum.  
The Witch's Daughter by Paula Brackston – A story that follows witch Elizabeth from Wessex in 1628 to present day England as she runs/hides from the warlock Gideon. Brackston weaves a great story throughout time periods about the two of these characters battle.
This fall I'm really looking forward to reading Wayward Pines by Blake Crouch, The Rules of Magic by Alice Hoffman, and The Broken Window (the next book I'm at in the Lincoln Rhyme series) by Jeffery Deaver. 
Happy reading!
---
---