Recent Reads Vol. 2 – Books you're going to want to read
Hey guys! Get ready because I have two books you're going to want to add to your TBR (to be reading) pile!
Lois, a transplant to San Francisco (originally from Michigan!) working in the robotics field is suddenly the owner of the sourdough starter used by her favorite takeout place. Although far from a baker, Lois agrees to feed the starter, play it music, and actually starts to bake delicious loaves of sourdough. Soon she is selling her bread not only to her tech company cafeteria but also in a unique farmers market that opens her to a whole new world of opportunities and choices about her future.
This is not my first Robin Sloan story, I've also read (and enjoyed) Mr. Penumbra's 24-Hour Bookstore. There is something distinct and slightly fantastical about Sloan's writing that I enjoy. Any book that has a main character from Michigan will hook me from the start and this story was no different. As Sloan describes Lois's change from a slower paced life in Michigan to the hustle and crazy expectations in her new job in San Francisco I immediately felt a connection. As someone who had similar thoughts to Lois when I moved from Michigan to NYC I appreciated Lois's struggles.
The short e-mails from the original owner of the sourdough starter break up the book and filter in the history of the starter in a seamless way, without just writing a whole chapter about it. The Lois club adds a wonderful group of minor characters that function as a sounding board for Lois when she needed it most. The market is unique but also distinctly San Franciscan, I can completely believe that this place exists there. Sloan has create a memorable but plausible world in the artisan baking industry that makes me want to go back for seconds.
Rating 4 / 5 – Warning: read this with a cup of tea and a great piece of sourdough or you will regret it. I highly recommend this book, it's not only about sourdough but about something deeper, doing what makes you happy. Trust me, pick up a copy.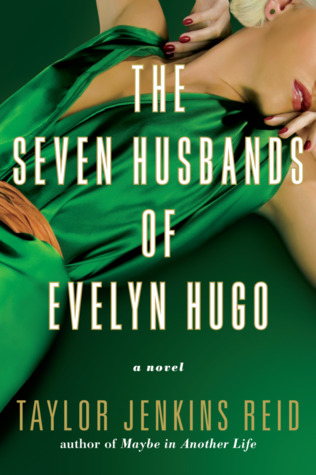 The Seven Husbands of Evelyn Hugo – Taylor Jenkins Reid
Evelyn Hugo, classic film actress who got her start in the 1950's is finally ready to tell all about her life in the spotlight, including her 7 marriages. Hugo requests a relatively unknown magazine reporter Monique for the job and will not settle for anyone but her. Unknown why, Monique sets out to discover who was the ultimate love of Evelyn's life. The book moves between the past as Evelyn recounts her life and the present where Monique is trying to figure out why she has been given this life changing opportunity.
Reid hooked me in from the very beginning with her writing. Hugo was a dynamic character, with plenty to love about her and plenty to dislike. You couldn't help but root for Monique as she tries to understand all the facets of the movie star in front of her. The secondary characters, including all 7 husbands were well written with distinct personalities that added to and moved the story along but never eclipsed Evelyn.
I think what I most loved about this book was that although it focuses on Evelyn's love life and her husbands, in the end it was never really about anyone but her. Her choices, her story, her life. The husbands were important to the story but they were supporting characters in Evelyn's life, helping her or hurting her, but never taking away from who she was or what she was going to do with her life. There was plenty of juicy and scandalise moments which balanced the heartbreaking ups and downs of Evelyn's life well. The book was never just fluff or just depressing moments, but was a well crafted story, with a few twists along the way, that could make you laugh or cry or sometimes both.
Rating 5 / 5 – This book was simply wonderful. The writing was beautiful, the plot was intriguing, and I never saw the twists coming.
As always thanks for stopping by and happy reading!
---
---