Recent Reads Vol. 1
Hey guys!
I hope everyone is enjoying their weekend. I'm planning to put up longer reviews of single books (especially ones that I've been generously given an ARC for) but for how much I read there's always books (good and bad) to put up quick reviews of so I hope you enjoy these quick recaps of my current reads.
Before jumping into my recent reads I wanted to outline my rating system, as I know everyone does it differently.
My rating system is out of 5
1 / 5 = I didn't even finish the book or I really shouldn't have bothered finishing it
2 / 5 = I finished it, it wasn't good (poor writing, plot was awful, disliked the characters and couldn't see why the author chose to write them that way) and I don't recommend it
3 / 5 = It was good, I wouldn't reread it but I enjoyed it. I would recommend it but not to everyone (to people who like that topic or genre)
4 /5 = the book was great and I would recommend it to most people, it just wasn't perfect, I might reread it (might have had a great plot but the writing was lacking, or the writing was amazing but the plot was little predictable, etc.)
5 / 5 = the book was amazing (it had everything, great plot, writing, characters, etc.) I would recommend it to everyone and I would reread it  
Now for the fun part, the books!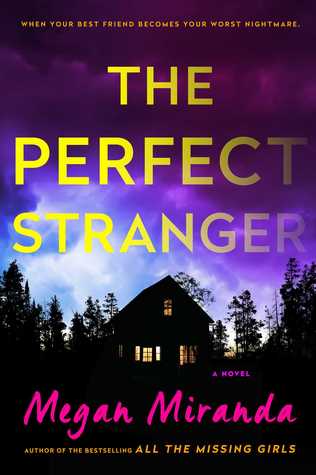 When former journalist Leah Steven bumps into an old friend, Emmy, who asks Leah to join in on her move to the middle of nowhere Pennsylvania just as Leah needs to get out of Boston and restart her life things seem to be looking up. Shortly after their arrival Emmy disappears, right around the time a woman who looks similar to Leah is assaulted close to their home. As Leah and the police begin to look into the crimes and Emmy appears not to have left a trace behind her Leah needs to get to the bottom of what is going on before her old life comes back to get her.
I love a good mystery but thrillers are not always my favorite. Not the case here! This book was amazing, the story was fast paced while still taking time to develop the characters and slowly reveal their pasts instead of dumping all the backstory at once. I couldn't put this story down and had to know how it ended. While I was able to guess a little of what was going to unfold, I loved the more unique elements the author added to the conclusion and the ending was interesting (if you've read this I would love to hear your opinion of the ending!).
Rating: 4 / 5 – pick up this book for a quick thriller that will keep you up at night (but I don't want to spoil it by saying what will be keeping you up at night!)
Kameron Hurley, an award-winning sci-fi writer, discusses all things feminist in respect to the Geek and Sci-fi culture in this collection of essays.
While I feel Hurley made many great points throughout her essays about the need for change in Geek culture and Sci-Fi/Fantasy environments I felt her approach was a little brash. I get it, sometimes you need to beat someone over the head before they understand, I know that those who she speaks about needing to change are not pulling their punches, and I have no problem with strong language or themes.  But some of her stories felt like she was using language to shock readers rather than it appearing more organically. I do agree wholeheartedly with Hurley that we need more women writers in Sci-fi/fantasy, not only writing but winning awards and not being ostracized by their male collages for doing it.
Rating 4 / 5 – a quick read that brings up important points for both readers and authors to think about not only in the sci-fi/fantasy world but in the world as a whole
A fun and in-depth look at our digestive system, one of the organs scientists have spent the least amount of time researching.
This book was an easy read, funny, to the point, and accessible for those without a science background. The laughter inducing illustrations done by the author's sister helped set this book apart from any other science text. Fun questions (like what should your poop actually look like) were answered along with run downs of new studies and where the future of the gut is heading. This book was especially interesting to read after I spent so much time reading and researching the Whole 30 program, which focuses on removing food that cause stress and inflammation to your body and more specifically your gut (read more about Whole 30 https://whole30.com/ – if anyone is interested I can do a post about mine and Jeff's experience with the program).
Rating 3 / 5 – grab a copy if you have any interest in learning more about how your gut works without feeling like you're going back to school (but still want a book backed in science and research).
Georgie is back at the amature sleuthing and is off to Italy per the request of her cousin, the Queen of England in the 11th installment of Her Royal Spyness.
I so enjoy this series, and this book was no different. Bowen has created a fun, historical, cozy, mystery series set in England during the 1930's. Georgie is adorably awkward and very different from most of those in her social standing/circle but that is what makes her so endearing and such a great character. I can't help but root for her throughout the series. I know some have said these books have a little too much fluff and while these books are by no means deep thinking literature that is what I love about them. They all are quick reads, with interesting mysteries and fun adventures in a very well written/researched 1930's England.
While I do think you can read these as stand alone novels or in any order (the author does a good job of supplying a quick background in each book), I always suggest reading the books in order to prevent any confusion and spoilers the author worked hard to set up throughout the series. In full disclosure, I have enjoyed the books more as I've gotten deeper into the series, so while I gave the first few a 3 / 5 the more recent ones have all been 4 /5.
Rating 4 /5 – I enjoyed the higher stakes relating to WWII that have started to be hinted at and really focused on in this book. As always Georgie was great and I'm liking Darcy more and more as the series progresses. I just wish there had been more of her grandfather! Pick this up if you're looking for a fun historical mystery series to start!
Woolly: The True Story of the Quest to Revive One of History's Most Iconic Extinct Creatures – Ben Mezrich
Mezrich follows a group of scientists, lead by Dr. George Church and assisted by a famous conservationist and a team of Russian scientists while they work to resurrect a woolly mammoth as part of the Russian scientists' plan to repopulate the Siberian tundra with herbivores (both currently extinct and still living) to slow the rate of global warming.
All I can say is "wow" after finishing this book. From the first page I was hooked and read through this much faster than I normally do with non-fiction. Mezrich takes non-fiction and presents it almost like a fiction story. I was also left with a need to know more after I finished the book (so I spent a bunch of time googling lol). This book bounces around from the past, to the present, and even to the future as Mezrich tells readers the backstory of not only Church but those working in his lab and the other key players in making this dream a reality; however, the author does it all in a seamless way that is easy to follow. Mezrich doesn't pull punches with dumbing down the science but I still think that even for a non-science person the book would still be accessible. This book also touches on the ethics of advancing science but doesn't dwell on them too much, which I appreciated.
Rating 4 / 5 – Anyone one with an interest in genetics, DNA, climate change, and just new advances in science in general will really enjoy this book. Woolly is another great reminder of the very real danger the world is in due to climate change and the minds who are working as fast as they can to find viable solutions to save the planet.
Happy Reading!
---
---